Top News!!!
26/10/2022 : Online Quiz
Click the below link for Online Quiz
12/10/2022 : Circle News
CEC Meeting Notice :
Notice is hereby issued for Circle Executive Committee meeting of SNEA Kerala scheduled to be held on 27-10-2022 (10 A.M) at SNEA Bhavan, Trivandrum. CHQ Office bearers Com.Berlin Issac (AGS) and Com.Vimal Raghunath (AGS) will participate and address the CEC. All Circle office bearers, SSA Secretaries, CEC Members and Advisors are requested to attend the meeting in time.
---
10/10/2022 : Sad News
With profound grief and sorrow, we express deepest condolences in the loss of a great leader Com.P.V.Chandrasekharan (78 years). Comrade PVC left to heavenly abode yesterday night (9/10/22) at Amritha Hospital, Ernakulam.
He uncompromisingly fought against the management of BSNL Kerala Circle in the period 2014-15 in forefront along with SNEA. His friendly approach and caring attitude has weathered many crises. His contributions as a leader who actively engaged in our issues with his kind words will always be remembered. His demise is a great loss to the Telecommunication fraternity.
---
07/10/2022 : Circle News
CS writes to CGMT regarding Inordinate delay in issuance of confirmation orders of 2017 DR JAOs
---
07/09/2022 : ONAM GREETINGS...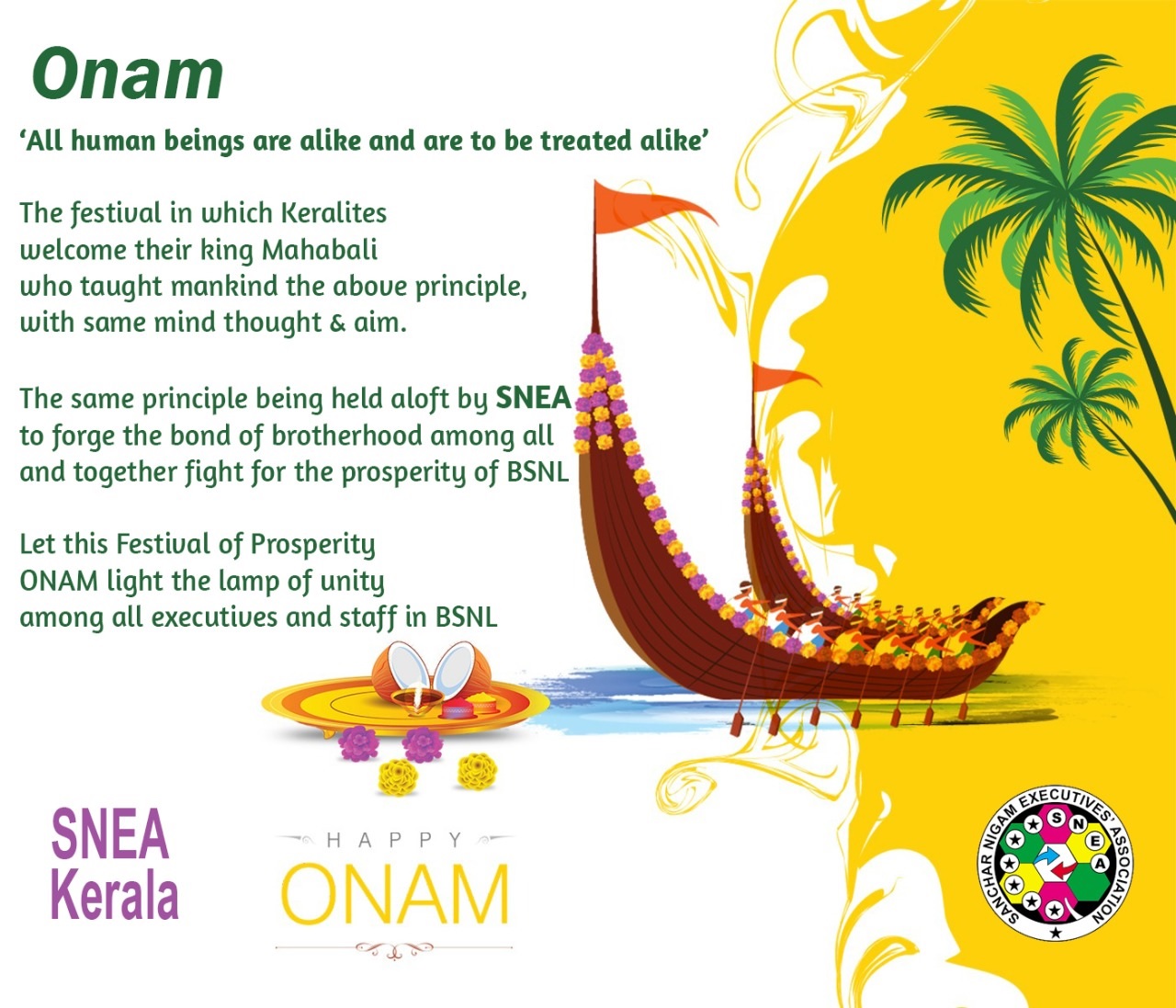 ---
31/08/2022 :
Result of LICE for promotion to the grade of JTO (Telecom) held on 07.08.2022 declared.
Congratulations to all Winners..!!
SNEA hearty welcomes all to the Executive Fraternity
Special applause to SNEA Training Team who rendered excellent training & support to the candidates which ensured this glorious success.
[

Letter

] [

Result List

]
Dear Comrades,
Congratulations on your well-deserved success. We are so pleased to see you accomplishing great things. We feel really proud to be a part of your success through the training programme. As expected, you made us proud.
We respectfully welcome you to the executive fraternity of BSNL, the Sanchar Nigam Executives' Association.
Sanchar Nigam Executives' Association is the centre of trade unions in BSNL. SNEA is committed to support and safeguard the interests of employees and their legitimate rights along with growth and prosperity of BSNL. SNEA upholds the policy of inclusive growth and values the interests of all the employees - the Direct Recruits, Absorbed Executives, LICE, LDCE, Engg and Non-Engg Graduates etc.
SNEA respectfully welcomes all of you once again!
Join SNEA, Strengthen Employees Unity, Strengthen Executive Unity, Strengthen BSNL
Sincerely with best wishes.
---
02/08/2022 :SAD News
SAD NEWS: With profound grief and sorrow, we express deepest condolences in the loss of our beloved leader, colleague Com.Deepak Kumar.P. left for his heavenly abode today on 02.08.2022, at Kannur Kerala. He was bravely battling Gastric Cancer for the last one year.
02/08/2022 :SAD News
SAD NEWS: With profound grief and sorrow, we express deepest condolences in the loss of our beloved leader, colleague Com.Deepak Kumar.P. left for his heavenly abode today on 02.08.2022, at Kannur Kerala.
He was bravely battling Gastric Cancer for the last one year.
02/08/2022 :SAD News
SAD NEWS: With profound grief and sorrow, we express deepest condolences in the loss of our beloved leader, colleague Com.Deepak Kumar.P. left for his heavenly abode today on 02.08.2022, at Kannur Kerala.
He was bravely battling Gastric Cancer for the last one year.

Com. Deepak Kumar served SNEA as DS Madikkeri, ACS Karnataka Circle, DS Kannur and CEC member Kerala. His invaluable contributions towards strengthening SNEA both at Karnataka and Kerala can never be forgotten.
A 2005 recruit JTO of BSNL, was working as SDE Mktg in Kannur BA in Kerala. He was also shortlisted in the recently published results for MT Internal.
He is survived by his wife Saritha V. (SDE Kannur BSNL) and a 10 year old Son Master Daksh.
SNEA deeply mourns the demise of a Comrade of high vision and down to earth personality who is well known for his compassionate attitude and empathetic approach. May his soul rest in peace.... and Almighty, please give his family members lots of courage to pass this hard time.
---
27/07/2022 : AUAB News
The All Unions and Associations of BSNL (AUAB), the umbrella organisation of all the major unions and associations functioning in BSNL, have given call for organising Black-badge wearing demonstrations throughout the country on 28.07.2022. The programme is being organised, opposing the decision of the government to hand over 14,917 of BSNL's mobile towers to the private, under the National Monetisation Pipeline and also demanding the immediate launching of BSNL's 4G service.
Stop National Monetisation Pipeline.
In the budget for the year 2021-22, the government has categorically stated that, it would garner Rs.40,000 crore, by way of handing over the mobile towers and optic fibre (OFC) of BSNL and MTNL, to the private. In accordance with this, now, the government has decided to hand over 14,917 mobile towers of BSNL to the private. As per the National Monetisation Pipeline, more towers and optic fibre of BSNL will be handed over to the private, in the days to come. This decision of the government will certainly kill BSNL. If BSNL's towers and OFC are handed over to the private, thereafter, BSNL will have to pay money to the private, for using it's own towers and OFC. This will deliver a death blow to BSNL, which is already limping due to it's economic crisis, created by the anti-BSNL and pro-private policies of the government. Hence, the AUAB demands that, the government should immediately drop it's proposal to hand over BSNL's mobile towers and optic fibre to the private, under the National Monetisation Pipeline.
Remove the road-blocks created in BSNL's 4G launching.
At a time when the private companies are getting ready to launch their 5G service, launching of BSNL's 4G service is nowhere in sight. The TCS, which has been identified by the government to supply 4G equipments to BSNL, has not even completed it's Proof of Concept (PoC). The original deadline set for TCS to complete it's PoC was 30 th November, 2021. This deadline has been extended many times. However, TCS has not been able to complete the PoC till today. It means, the TCS has not been able to prove that, it is having the technology to supply 4G equipments to BSNL. BSNL has already placed it's Purchase Order to procure 6,400 BTSs (Base Transceiver Stations). However, so far, TCS has not accepted the Purchase Order placed by BSNL.
It must be noted that, TCS has committed to supply 1 lakh 4G BTSs to BSNL. However, no one knows how and when TCS is going to accomplish this. Since, BSNL has not been able to launch it's 4G service, it has started loosing it's customers. In May, 2022 alone, BSNL has lost 5.3 lakh customers. BSNL's Revival Package remains only on paper. The Company's financial condition is deteriorating fast due to the non-availability of BSNL's 4G service.
Hence, the AUAB has given call to organise Lunch-hour Black badge wearing demonstrations on 28.07.2022, opposing the handing over of BSNL's towers and OFC to the private and demanding meaningful action by the government and the Management to immediately start BSNL's 4G.
---
27/07/2022 : Circle News
The issue of frequent failure of Attendance Portal is taken up with CGMT Kerala:
It is reported from the field units that attendance portal is frequently down during the peak marking time (9:30 am to 11 am) for the last two days creating unwanted stress on employees. It is also understood that to implement the attendance portal at PAN India level some testing is under process during these peak hours which is the main reason for the server failure. It is widely rumoured that the frequent failure is also to intentionally support the trade union activities of MA.
In this regard. We have shared the following suggestions.

1. Testing for other circles may be done in the odd hours.
2. Controlling officers may be informed about the testing being done, to avoid any conflicts in the offices.
3. The capacity and bandwidth of the attendance servers may be increased if decided to implement it PAN India.
4. The strike report sent to corporate office may not be based the online attendance reports.
5. Inform all employees that how long testing will be conducted.
---
Meeting with Shri. P.K. Purwar ji, CMD BSNL:Shri. Arvind Pal Dahiya, President SNEA BSNL CO and Shri. M.S. Adasul GS SNEA had a meeting with Shri. P.K. Purwar ji, CMD BSNL on 22/07/2022 and have detailed discussions on different development and HR issues.
At the very outset, we congratulated CMD BSNL for his focused approach on growth and development of BSNL and specially for the revival of BSNL with active support of the Government of India. We conveyed thanks and gratitude for certain breakthroughs in getting support from the Government of India. CMD BSNL in reciprocation conveyed that he alone cannot do anything but this is result of devoted efforts by all the Executives and employees of BSNL and he is representing them with the Government of India. He narrated that the Government recognises the actions taken by BSNL workforce in improving services after the VRS scenario and mainly the way BSNL performance has been improved during critical conditions of Pandemic Covid 19.He was optimistic that the support of the Government of India and DoT will continue and it is expected by them that the BSNL workforce also should focus on the overall growth of BSNL. CMD BSNL informed that though BSNL is performing well over the last two years by reduction of cost on expenditure, improvement of its Services, interactions with customers, there is much scope for further improvement. CMD BSNL narrated that the coming two years are very crucial for BSNL as a whole and it is our then it will be difficult to get further support. CMD BSNL especially appealed to all Executives and Non-Executives to come forward and join hands for restoration of golden days of BSNL responsibility that the opportunity given by the Government of India is converted in a success story. He added that this is possible, only if we all keep a focused approach on the growth and development of BSNL by keepingaside our personal interests for period of two years. He also stressed for the need of punctuality by the BSNL workforce and need of adhering to office reporting timings. CMD BSNL specifically pointed out that if BSNL miss this opportunity, then it will the most difficult situation further.
The details of point wise discussions are as follows.
Status and brief on support for Revival 2.0 for BSNL:We requested CMD BSNL about the status of the revival package 2.0 for the BSNL from the Government of India. CMD BSNL informed that the issues are being discussed at the highest level of the Government of India and since last one year he had been submitting presentations to different Committees and officers in DoT and the Government of India and a recent presentation is given in this week. CMD BSNL informed that he is very optimistic on getting support for BSNL as the Government of India really wants to support BSNL and has strong intention for the revival of BSNL. The support will be given through different projects to BSNL and it is the responsibility of BSNL to implement these projects successfully.If BSNL is successful in implementation of 80% projects in the time frame given by the Government of India, then it will be a big achievement. He added that GOI has no issue in extending support, but in all meetings, uncertainty is expressed about the timely implementation of any project and this is possible if one and all extend the support and take active part in execution of projects. CMD BSNL assured that there will be full support from Government of India and details will be finalised shortly and will be available on public domain. In conclusion he shared that it will not be appropriate to share the information before final approval of competent authoritybut was optimistic on full support of the Government of India for the revival of BSNL.
Need of Change in methodology in implementation of projects: We brought to notice of CMD BSNL that presently BSNL is keeping a general approach in implementation of any projects and it is required that BSNL has to adopt to utilise the available manpower in the best possible manner. Everybody cannot be part of the project, but there is a need to make team/s of executives who can implement the project in a time bound manner. If we continue with the routinemethods, there are changes of missing targets. We further narrated that the information and action plan of BSNL management is good, but major failure in implementation of the projects. The viewsof executives working in the field are not given consideration and they are compelled to act as per directions of higher offices neglecting their difficulties. We also drew attention of CMD BSNL that the action plan and information available with BSNL CO are not reaching to the field units in real sense and there is a need of a special and corrective action so that the projects are implemented in a special and focused approach. CMD BSNL agreed to the concern expressed by us and assured that issues will be taken care with involvement of field units and special efforts will be made to pass on information to the field units.
Rumours on VRS and actual status:We categorically brought to the notice of CMD BSNL, about the Whats app SMS taking roundsin different groups about implementation of second VRSin BSNL as part of BSNL Revival Package 2.0 and it is official confirmation by some senior officers in office meetings and discussions.We narrated that this SMS has created unrest and anxiety among the working class of BSNL and who are in need of services are under fear of early retirement and who are in need of any such VRS package are feeling enlightened and waiting for early VRS. This has diverted focus of the workforce of the BSNL and there a need of official confirmation of it.CMD BSNL categorically informed that there will be no VRS in BSNL and information being spread on social media is wrong and misleading. We gave feedback that some senior officers are firmly telling that VRS is always package and in this package also it is included and the information by the senior officers has created unrest and there is a need of corrective action. CMD BSNL informed that it is analysed by the Government that there is a need of about 30000 workforces in BSNL as compared to private telecom operations and hence it was proposed and suggested by certain offices for VRS in BSNL, but by understanding need of workforce in implementation of projects and working pattern of PSU, it has been finally decided that there will be NO VRS in BSNL.
Replacement of all Rural Exchanges by providing FTTH through Partners OLTE: We brought to the notice of CMD BSNL how BSNL is running Rural Exchanges in heavy losses. We added that due to reduction in the number of lines, the overall revenue generated has gone down about the operational expenses are as it and increasing day by day. BSNL is making huge expenditure on Rent /Property Tax, Battery, Power plant, equipments, Electricity Charges, AMC for Mtce of OFC connectivity, AMC for maintenance of External plat, AMC for Mtce of Power Plant modules but said amount is not recovered from the revenue generated from running these exchanges with less line. We also added that customs are not getting higher quality of services like FTTH which are at the highest demand. WE suggested that to overcome the losses in all Rural Exchanges, BSNL should take strategic decision to replace these exchanges by installing OLTEs in all loss-making Exchange areas and all customers using landline/broadband may be converted to FTTH. This will save entire expenditure on Operations and Taxes as these Expenses can be borne by the BSNL partners on revenue sharing basis as being successfully done at other locations. This will add at least 50% revenue generated from FTTH connections to BSNLs account and 50% may be given to the BSNL partners. In some cases higher revenue share is paid to such partners and it will not be loss to BSNL as some percent will come to BSNL and BSNL will save expenditure of lakhs of rupees and there will be zero loss to BSNL. CMD BSNL appreciated the concern expressed by SNEA and added that instructions have been already issued for reducing expenditure on operations and also for closure of loss-making exchanges with small customer base. We narrated that though such instructions are there losing making exchanges are operational due to Wi-Fi Hotspots, BTS installed and till hundreds of exchanges are working which is causing recurring loss to BSNL. WE elaborated that if BSNL Managementtakea policy decision to replace all Exchanges and landline/BB Services by OLTE and FTTH services, all the losses will be brought to zero and BSNL will get certain fixed revenue and the only decision required is on one time cost of ONTs. CMD BSNL assured to look into the suggestion given by SNEA and take suitable decision on it.
Steps for strengthening Infra of Exchanges/BTS: We requested CMD BSNL that there are serious issues of Infrastructure mainly Battery sets and power plants for smooth operation of exchanges and BTS and all the Circles are looking at BSNL CO for support by supplying Battery sets and Power Plants. CMD BSNL responded that he is aware of the issues and necessary action is being taken to supply replacement/additional battery sets. Some Power Plants will also be procured depending on requirement by field units. CMD BSNL pointed out that there are critical issues in AMCs of Power Plants and he has been reported about mischievous repairing of Power Plant modules and he has already issued directions for taking corrective action for effective and economical repairing of Power plant modules. In conclusion CMD BSNL added that with the revival package, there will be much improvement in Infrastructure availability and only required in its optimum and effective utilisation by the field units.
Status of 4G GSM Services by BSNL:We requested CMD BSNL clear the clouds of uncertainty on the implementation of indigenous 4G Project and status of 4G services of BSNL under Atma Nirbhar Bharat project as somesections are spreading negativity about it. Also other operators are ready for the spectrum of 5G and BSNL has not yet started with 4G services and this is directly affecting growth of BSNL. CMD BSNL informed that the work of Indigenous 4G equipment is in progress and there are certain issues noticed and the same are being taken care of. It is not good on part of any stakeholder of BSNL, including its workforce, to doubt the project. Every new projecthas its constraints and the same is being taken care of. CMD BSNL agreed that there is delay in overall implementation of indigenous 4G Equipments, but it will be taken care of and decision on providing 4G services by BSNL will be taken care of shortly.
Monetisation of BSNL Towers and OFC: We requested CMD BSNL that the news of Monetisation of BSNL towers and OFC be seen in newspapers/media and this has created uncertainty among BSNL executives. One side BSNL is planning to expand its GSM network and upgrade it to 4G wherein the requirement of towers will be more and the other side the existing towers are being handed over to private operators. We narrated that the BSNL has incurred huge cost and manpower in installing these towers and the same cannot be handed over to private operators against the additional requirement of BSNL. It also understood that the towers which are earning high revenue for BSNL will only be shared and taken over by private operators and loss making towers will be with BSNL. This will adversely affect the BSNL GSM services and there are chances that important customers of BSNL will be diverted to other operators from the handing over of profit making towers. We also narrated that news is being spread that BSNL will have to pay charges for utilisation of these towers. CMD BSNL informed all thenews being spread are wrong and it is a fact that BSNL needs money from the monetisation. He further added BSNL will not have to pay any charges for utilisation of towers except as being paid now for Electricity Charges and other similar charges. BSNL will be using all the towers. We requested CMD BSNL as this is an issue related to the growth of BSNL, one special meeting may be called with leaders of AUAB BSNL so that issues can be discussed with more clarity once for all. CMD BSNL assured to conduct meeting accordingly to elaborate issues related to Monetisation of Towers and OFC infrastructure.
Status Merger of BSNL/MTNL with BSNL:We requested CMD BSNL about the status of merger of BSNL and MTNL. CMD BSNL informed that there are certain issues which needs to be resolved and merger will be possible only with resolution of these critical issues. As of now the services are being merged and BSNL is taking care of the majority services of MTNL and final decision on merger will be taken once the pending issues are being taken care of. There are issues of heavy loans on MTNL and payments of its Interest by MTNL. Though there are huge assents, the response in monetisation is not as desired.CMD BSNL further added that if MTNL Executives and employeesare willing to join BSNL as per the scales of BSNL in equivalent cadres, same will be permitted and who are not opting for joining BSNL with the Pay Scales of BSNL will be continuing in MTNL services and matter about their services will be decided accordingly. As such steps are being taken for operational merger to the best possible practical approach but administrative merger of MTNL with BSNL is not under active consideration and matter will be reviewed from time to time.
GSM Services in MTNL Area specially in Delhi and BSNL CO:We requested CMD BSNL for intervention on improvement of GSM services in MTNL area both in Delhi and Mumbai. If the services in important capitals and adjoining areas are improved there will be much growth in GSM services of BSNL/MTNL. We also narrated that BSNL has made certain changes but it has not helped in the improvement of overall GSM services and there is a need of special drive for improvement of service in MTNL area. We added that the services in BSNL Corporate office are also weak when there is smart city pole is installed and not utilised for GSM services. We requested to put BTS at BSNL Corporate office and also to improveservices in areas where these executives are using GSM Mobile in the MTNL area. CMD BSNL appreciated our concern and informed that certain steps are being taken in improvement of GSM services of MTNL, but as there is no addition of infrastructure in MTNL area for years together, many areas are uncovered and assured to take corrective action for improvement of GSM services in MTNL area.
Revised Procedure for temporary advances:We have requested CMD BSNL for further course of action in granting temporary advances and revised procedure for grantingTemporary advances through special mode. CMD BSNL informed that though proposal was given to Paytm, it has not certain restrictions on adding new customers and hence the over all process are delayed, but assured that the matter will be further explored and decided shortly as this will be helpful to field units and manpower in overall process will be reduced.We have drawn the attention of CMD BSNL that there are many requests of Temporary advances pending and money is not being paid for a long time, this has adversely affected the working in field units and many of the executives are compelled to put thousands of rupees from pocket. We also drawn the attention of CMD BSNL that some of the officers are receiving Temporary advances in multiple numbers without any hurdles and some are not getting even a single temporary advance though the same are duly recommended by BA Heads.CMD BSNL informed that no such case of Pending Temporary advances is reported to him and informed that there is no scarcity of allotment of funds for temporary advances as the total required for Temporary advances may be less than one crore and added that it is responsibility of the field Officers to use this amount carefully and only in the interest of BSNL. We added that we have already brought it to the notice of GM CA and he also has assured us clearing all temporaryadvances and he has assured for the same, buttill many advances are pending. We assured that we will again give details of pending Temporary advances to GM CA and hopefully all will be settled.CMD BSNL also assured to take a review of entire procedure and streamline it to maximum possible extent.
Issuing AGM Promotions by resolving bottleneck issue: We conveyed thanks to CMD BSNL and entire team of officers in BSNL CO for initiativestaken till today for issuing SDE to AGM promotions by holding different rounds of discussions over the last two months. We also narrated that though certain fundamental steps are taken by BSNL management till final orders are issued. The initiatives and discussions overthe last two months are all in vain as matter is held up on the bottleneck issue of procedure to be adopted on reservation. We added that non-issuing orders has created unrest among the SDEs who are aspirants of AGM promotions for a long time. With certain initiatives by BSNL management their hopes are high, but are not finding anything concrete by formallyissuing the Promotion order as AGMs. It is unfortunate that certain misleading messages are being spread among different whats app groups putting fuel and increasing unrest anduncertainty on AGM Promotions. We specificallyinformed that we want to draw attention of his office before one week, but we have not disturbed due to a meeting relatedthe revival package for BSNL. Now, when BSNL is to get the revival package, there is a need of some positive energy in BSNL and the same can be infused by issuing promotion orders wherein financial implication is about nil. CMD BSNL informed that he has already cleared the issues and requested associations to come to certain understanding on reservation issues, but same is not reciprocated by all the three associations. We informed that there was no issue on part of SNEA and AIGETOA and even by SEWA BSNL to go ahead with promotions as discussed in a special meeting held in the office of Director HR, but issues are related to signature of GS SEWA on the procedure to be adopted in giving promotions. We informed that already all the three associations and management have come to an understanding with the signature of all, then there is no need for fresh agreement or understanding as proposed by Management. We elaborated that we all have proposed to go ahead with DoPTguidelines and for any doubts clarification/confirmation can be taken from DoPT on the subject. We added that DoPT and DoT have issued promotion orders and no issue has been noticed in their promotions and the same procedure needs to be followed in BSNL. We also narrated that GS SEWA has again and again confirmed his stand on issuing promotions during the combined meeting and by writing letters and till it is wrongly spread that the promotions are held up for signature of GS SEWA or other associations. We conveyedthat till unnecessary information about SEWA BSNL not signing forpromotions is being spread creating a negative impact on the overall process of AGM promotions. We clarified that we have discussed the issue with GS SEWA and we understand and agree with the difficulties expressed by him. Now it is the turn of BSNL managementto review of the overall process to resolve the bottleneck issue and requested CMD BSNL to take practical decision as Head of BSNL. We have detailed discussions on the DoPT guidelines and procedures followed in different promotions and need of action on part of BSNL to issue AGM promotions without any further delay. After elaborate discussions, CMD BSNL was kind enough to give his consent for issuing AGM promotionorders on the basis of procedure and guidelines followed by DoPT in issuing promotion in their office. Accordingly Team of senior officers in BSNL will visit/get information from DoPT and accordingly the promotion orders will be issued for AGM cadre in all wings.Thus on the bottleneck issue of consent and signature of association leaders /GSs, finally CMD BSNL was kind enough to finally confirm that there is no need for signature or consent from any Association. We conveyed thanks to CMD BSNL and assured that such a firm decision on his part will definitely infuse energy among executives in BSNL. In conclusion of the discussions on an important and burning issue, CMD BSNL informed that the confirmation from DoPT will be taken under his direct supervision so that there is no delay in getting confirmation from DoPT so that promotion order can be issued at the earliest. Accordingly, the SDE to AGM promotions for all wings are expected shortly
Issuing DGM Regular Promotions:We requested CMD BSNL to issue AGM to DGM Regular and DGM Adhoc to DGM Regular promotions so that the vacant post can be added in SDE to AGM Promotions also the looking arrangement can be stopped at majority locations. CMD BSNL informed that we should move one proposal at a time and let us finalize the proposal for SDE to AGM Promotions and assured that thereafter the proposal for DGM Promotions will be given consideration.We also requested for relaxation of four years financial criteria to completion of four years. CMD BSNL responded that he does not want to set the wrong trend of relaxation of conditions and all issues will be taken care in due time. In conclusion, CMD BSNLassured that management will give consideration for filling all vacant posts and in all wings, but all promotions cannot be processed at time but can be given one by one.
Expediting process of Internal MT Recruitment:We have requested CMD BSNL to expedite the procedure of Internal MT recruitment which has been restored by declaring results after directives from court. We cleared stand of SNEA that we always opposed External MTs but we have always demanded for Internal MT so that the talent available in BSNL is given opportunity to explore the talent and give his/her best to BSNL. We draw his kind attention that though BSNL has declared result and successful candidates are called for Group Discussions and Interviews, the dates for the same are not declared. Meantime confusions are being created by publishing an excel sheet by missing names of successful and unsuccessful candidates and this has created unrest among the successful candidates. In response CMD BSNL informed that his office is always promoting fast track promotions and Internal MT recruitment also one of the fast track promotions initiated three years before ago but was struck off in court cases. Now when the court has given directions results are declared and further process is also under consideration. He assured that further court of action will be taken to expedite the process and finally matter will be subject to the outcome of the court cases. In conclusion CMD BSNL informed that there is no reason for unrest among any executivesabout MT as this is fast track promotions for exploring talent within BSNL. In conclusion, CMD BSNL added that if issues are not dragged to court cases, BSNL management is firm to go ahead with MT recruitment so that in coming days BSNL have certain officers in its management who had ample experience of working in Telecom field.
Theother HR issues viz Action by BSNL on response received from DoT Standard Pay scales of E2 and E3 from 01/01/2007, Orders/ Instructions for implementation of E1 plus Five increments for JTOs/JAOs joined BSNL before 08/07/2014, Action by BSNL on response received from DoT on Time Bound Promotion to the BSNL Executives , SAB related issues, Keeping on hold the review of RRs & review the matter as fresh, Issuing Regular Promotions of all wings and all cadres, Restoration of facilities of All India Soft tenure stations and issues related and created due to Rotational Transfers could not be discussed in depth due to time constraint.
On these HR issues CMD BSNL informed that he will go through it, discuss with his team and then will take call on it. We informed that we are discussing these issues with concerned GMs/PGMs and Director HR and we have received positive responses but till conclusive decisions are not taken. We apprised specific cases of Standard Pay scales and Time Bound Promotions which are being discussed since last two months but all off sudden DGM SR and AGM SR have conveyed stand of BSNL during reconciliation meeting with DyCLC that both the demands are not acceptable to BSNL which nonfactual. Now we are discussing and getting positive response from PGMs/GMs and we will definitely discuss these issues with Director HR. But we just want to bring these issues to the notice of the Head of BSNL. We narrated that for going ahead with the different projects, BSNL has to create some positive energy and resolution of HR issues which are directly affecting executive fraternity is required at this stage. CMD BSNL assured to have a review of all these issues and directed us to discuss these issues in depth with Director HR.
The overall meeting lasted for about 50 minutes and conveyed thanks to CMD BSNL for sparing time giving consideration to certain issues on top most priority.
---
---
16/07/2022 : Thank You Comrades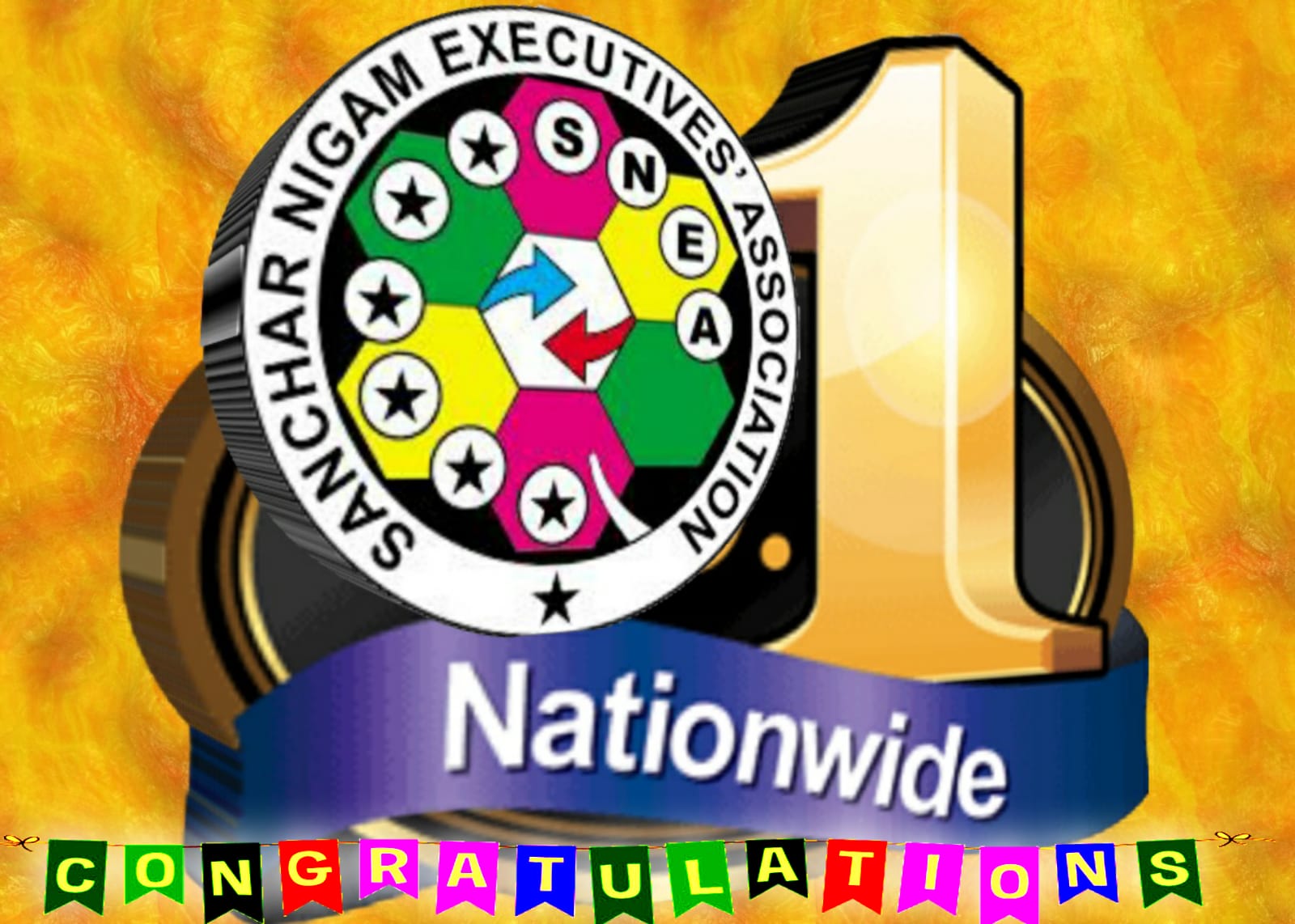 ---
---
12/07/2022 : Meeting on 05-07-2022
Meeting of SNEA Kerala Circle was conducted on 05-07-2022 from 3pm to 5pm at Circle Office presided by Respected CGMT & GM-HR.
Circle leaders and leaders from different BAs attended the meeting under the leadership of Circle President & Circle Secretary.
Respected CGM and GM-HR responded positively to the various issues raised in the meeting reg. transfer & postings of executives, time bound issues of JTOs & JAOs & Rule-8 tranfers of GATE JTOs etc.
Staff deficit on Inter Circle transfers
Circle Secretary addressed the intense executive deficit in different BAs on account of inter Circle transfers and lack of executives coming into Kerala Circle as per the transfers. CS thanked CGMT on addressing this issue to BSNL CO.
Calling LA in the post of DGMs & AGMs & Request transfers of AGMs
Circle Secretary requested to call for LA arrangements in the post of DGMs & AGMS for addressing immediate shortage of executives in BAs. CGMT agreed the same and gave directions to call for LA in DGMs & AGMs by this month end.
We also requested to consider the request transfers of AGMs up to july 31st and CGMT & GM HR responded positively and conveyed that these requests will be considered on the basis of incoming executives and LA arrangements.
Delay in issuing time bound E2 scales in the case of LICE JTOs & JAOs
We expressed strong resentment in the delay and omission of LICE JTOs in issuing the time bound E2 scales.
CGMT & GM HR assured to look into the matter and to take urgent necessary actions to issue the same to all eligible executives.
Issue in transfers & Unsettled transfer cases in Electrical wing
The unnecessary cascading transfers implemented in the transfer of electrical executives was strongly condemned and the non-relieving of certain executives on account of transfers was also pointed out.
CGMT assured to cross check the issues and gave necessary directions to relieve the executives on transfers in ERP without any delay.
IPTV service through Air Fiber & Timely reminders for payment for FTTH customers
CS pointed the importance of enhancing the IPTV services through Air Fiber. CGMT assured to explore all possibilities in consultation with the technical team concerned.
We demanded timely reminders for FTTH customers to avoid delay in FTTH payments and CGMT agreed the same and assured that it will be implemented.
Introduction of QR Code to enhance digital payments in CSCs
CT pointed out the demand of customers for payments through QR code in CSCs. CGMT responded positively responded and conveyed that new billing system through Whale cloud is being introduced by HQ by August end and assured to consider the cashless payments in CSCs after discussion with Finance team.
Fund shortage for Vehicle bills & Diesel
We once again addressed the acute fund shortage for payment of Vehicle bills and diesel and the difficulties faced by filed teams. Vehicle bills of MRX is delayed for last six months and none of the vehicles are available now. Diesel balance is also nill, hence every day many exchanges are getting down.
CGMT responded that the issue is already addressed to Director Finance & assured that all possible efforts will be continued to be made as Circle Head.
We pointed the huge penalty paid by BSNL due to the delay in payment of KSEB bills through Oorja App. To avoid this we proposed to the pending bills by June 30, to get extension from KSEB for another 15 or 30 days for settling the payment and settle all the payment within due date and to timely clear bills in each level of Oorja especially Circle node L1 and ERP.
CGMT noted these points and assured to make all possible efforts to avoid the late payment of KSEB bills.
Rule-8 transfers & Bond amount calculation of GATE JTOs
We unanimously criticized the delay in processing the Rule-8 transfer requests of GATE JTOs.
CGMT gave necessary directions to HR team in order to execute all the Rule-8 transfer requests 3 months before the completion of 5 year tenure of the GATE JTOs.
We demanded to revise the calculation of bond amount of GATE JTOS so as not to penalize who have served BSNL more. CGMT directed HR team to cross check the same as per RR rules of GATEJTOs.
SAD NEWS: With deep sadness and heavy hearts that we inform the Sad demise of Shri.C.D.VITTAL (88 years) , father of our beloved CGM Shri. C.V.Vinod, who passed away today evening.
Offering our deepest and most sincere condolences to the sorrowing family and joins in their prayers .
---
28/05/2022 : AGB- Thrissur & Ernakulam BA
AGB of Thrissur BA
Very proud to announce the Newly elected Team of Thrissur BA under the leadership of Lady Comrade Simna Anil
Annual general body unanimously elected new office bearers on 26/05/2022 as follows :
President : Praveen Kumar MV, SDE ; Vice Presidents :Rahil MR, SDE & Neethu K J, JTO
Secretary : Simna Anil, SDE
Asst Dist Secretary : Gokulan PV, SDE & Dhibi VD, JTO
Treasurer : Bernard Jose, JAO
Organising secretaries : Prijeesh AS, SDE, Subha Padmanabhan, JTO, Molcykutty Mariama K, DE, Preethi G, SDE, Sujith Sukumaran, JTO, Rajesh AR, DE, Sayooj US, JTO & Vivek MV, JTO
Auditor: Denny KS, AO
Circle Executive Committee members : Jyothis TJ, JTO & Sureshbabu K, JAO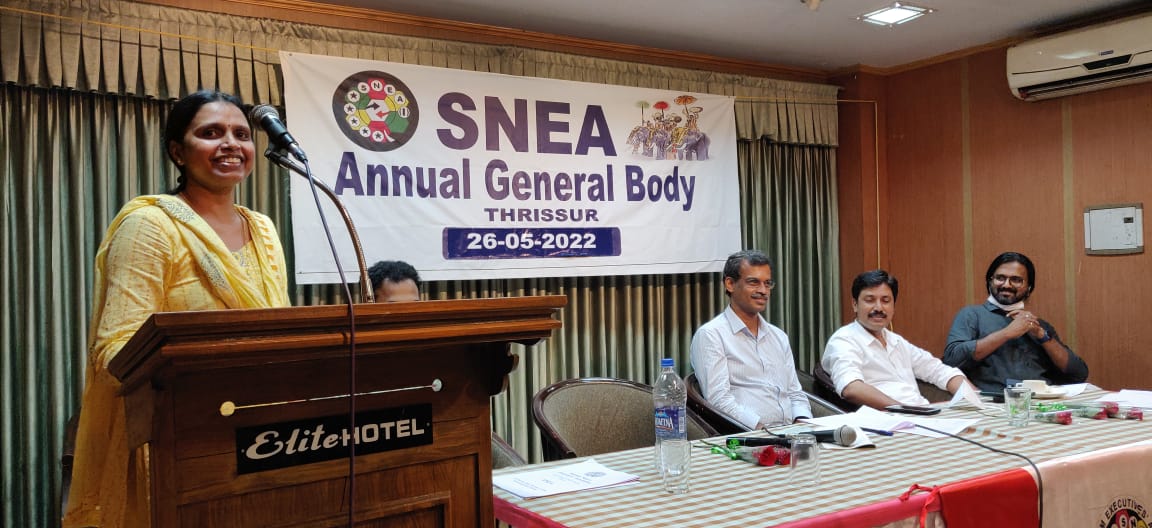 AGB of Ernakulam BA
Ernakulam BA welcomed GS Com.Adasul & Ex-GS Com.K.Sebastin , AIVP Com Rajesh P.V Manchan & AGS Com Vimal R.
Annual general body unanimously elected new office bearers on 27/05/2022 as follows :
President : Chandramohan, DE ; Vice Presidents : Nileena K P, SDE & Biju Kammath, SDE
Secretary : Vivek G, SDE
Asst Dist Secretary : James Sikkera, DE & Sujithkumar G, JTO
Treasurer : Manu Babu G, SDE
Organising secretaries : Harish Rao, JAO , Jaimon, SDE,Manjusha TK, SDE STR, Jameel Y, JTO & Anoop KJ, JTO
Auditor: Zeenath, JAO
Circle Executive Committee members : Mohd Basheer, JTO , SundaraRajan, DE & Abdul Rahman, SDE STR
---
---
---
25/05/2022 : CEC Meeting on 28-05-2022 at Ernakulam
All Circle office bearers, District Secretaries, CEC members and Branch Secretaries are requested to attend.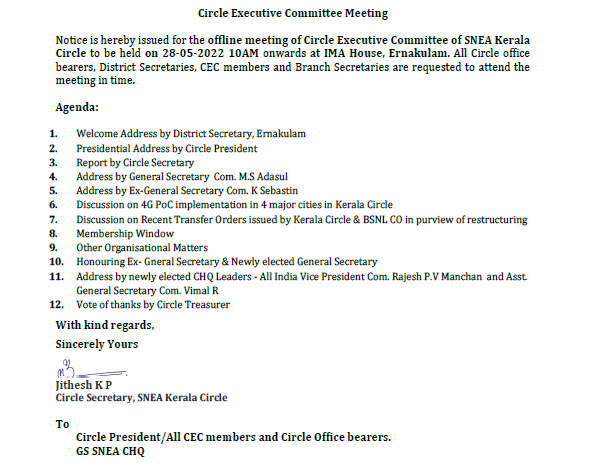 ---
---
---
09/05/2022 : Training Programme on LICE to the Cadre of JTO
(Study Materials, Online Classes, Access to Training Portal, Online Test Series and Mock Tests)
SNEA respectfully welcomes all the aspirants appearing for the Limited Internal Competitive Examination to the Cadre of Junior Telecom Officer to be held on 7th August 2022.
The registration is free and it is requested to use the following link for the registration.
Kindly refer exam notification No.BSNLCO-11/13(12)/2/2022-RECTT-CO dated 21-04-2022
Details as follows: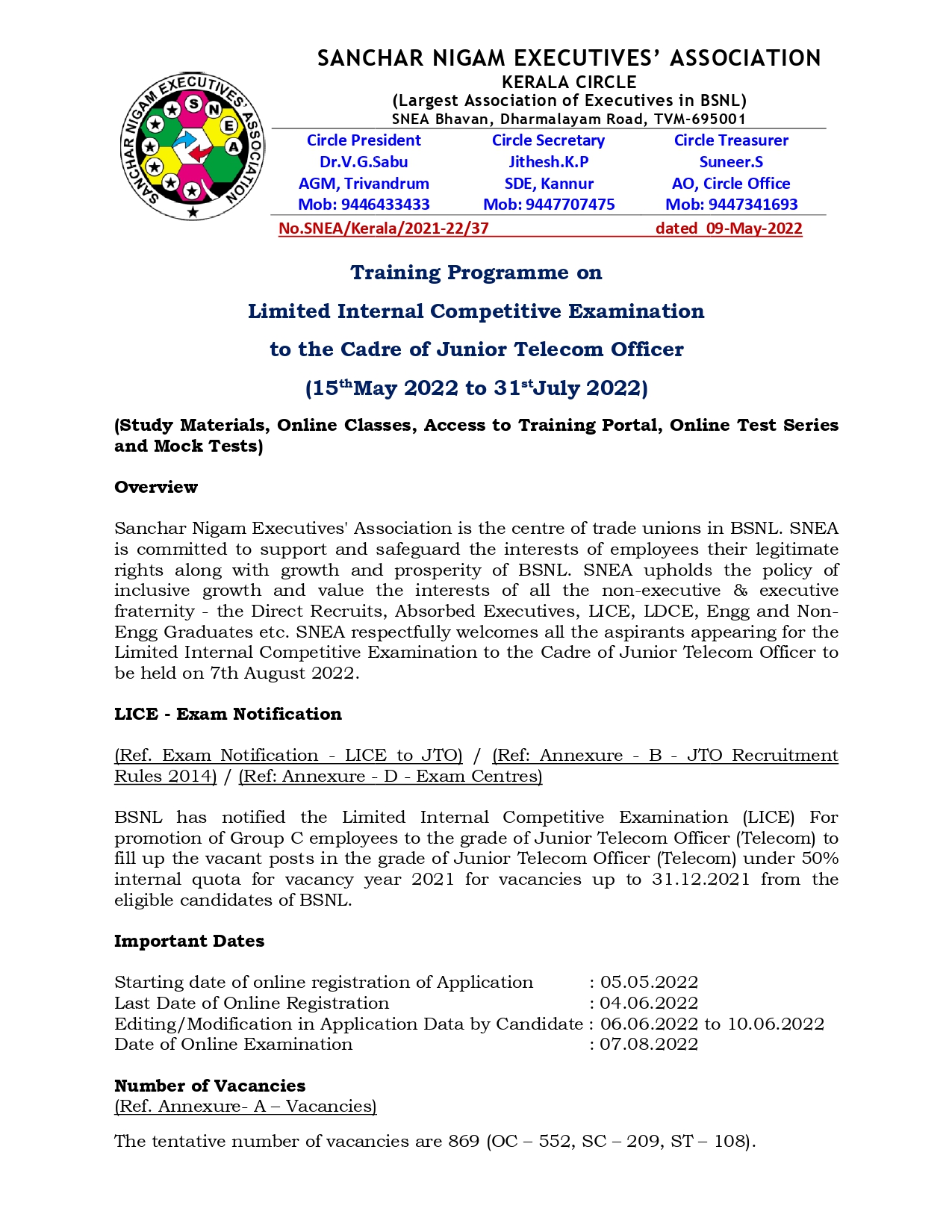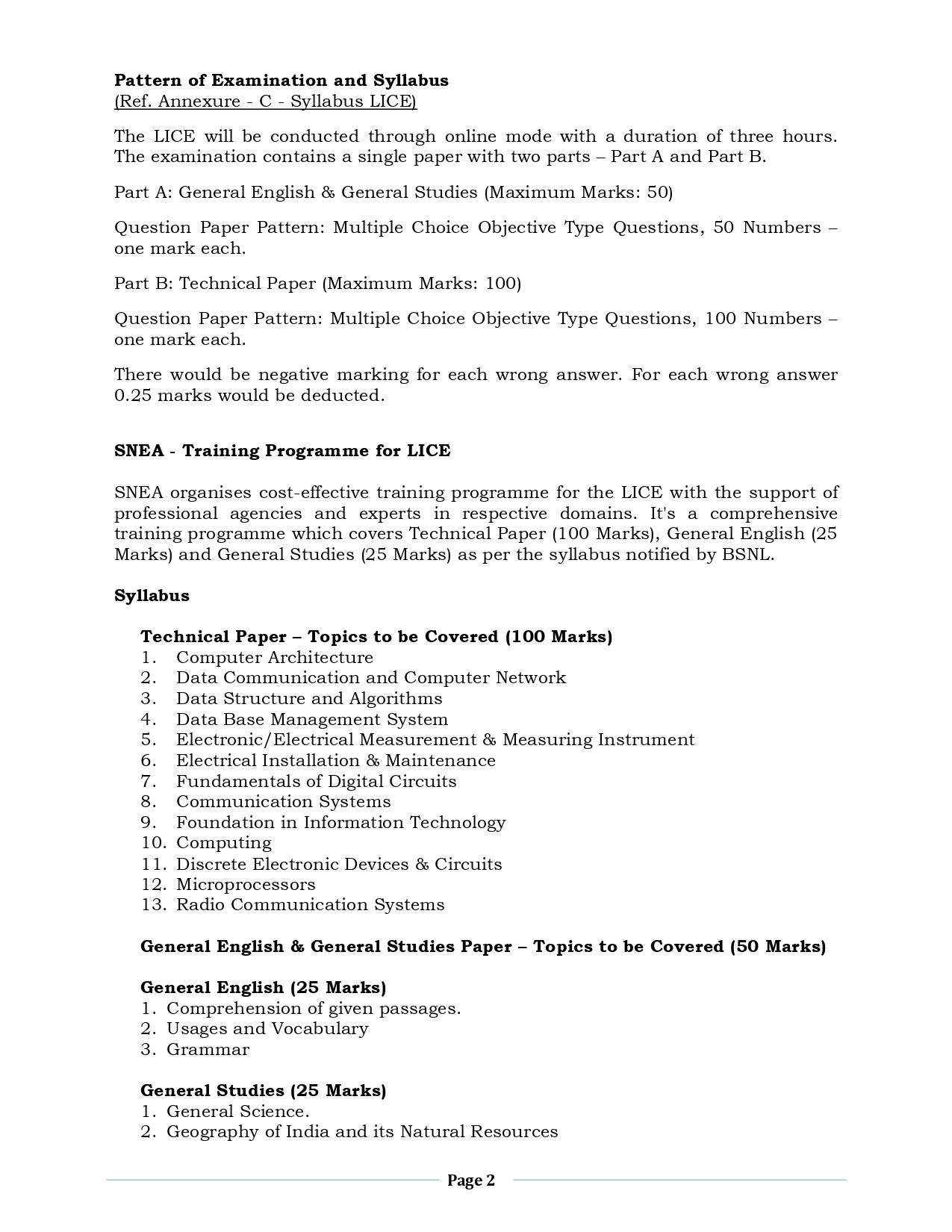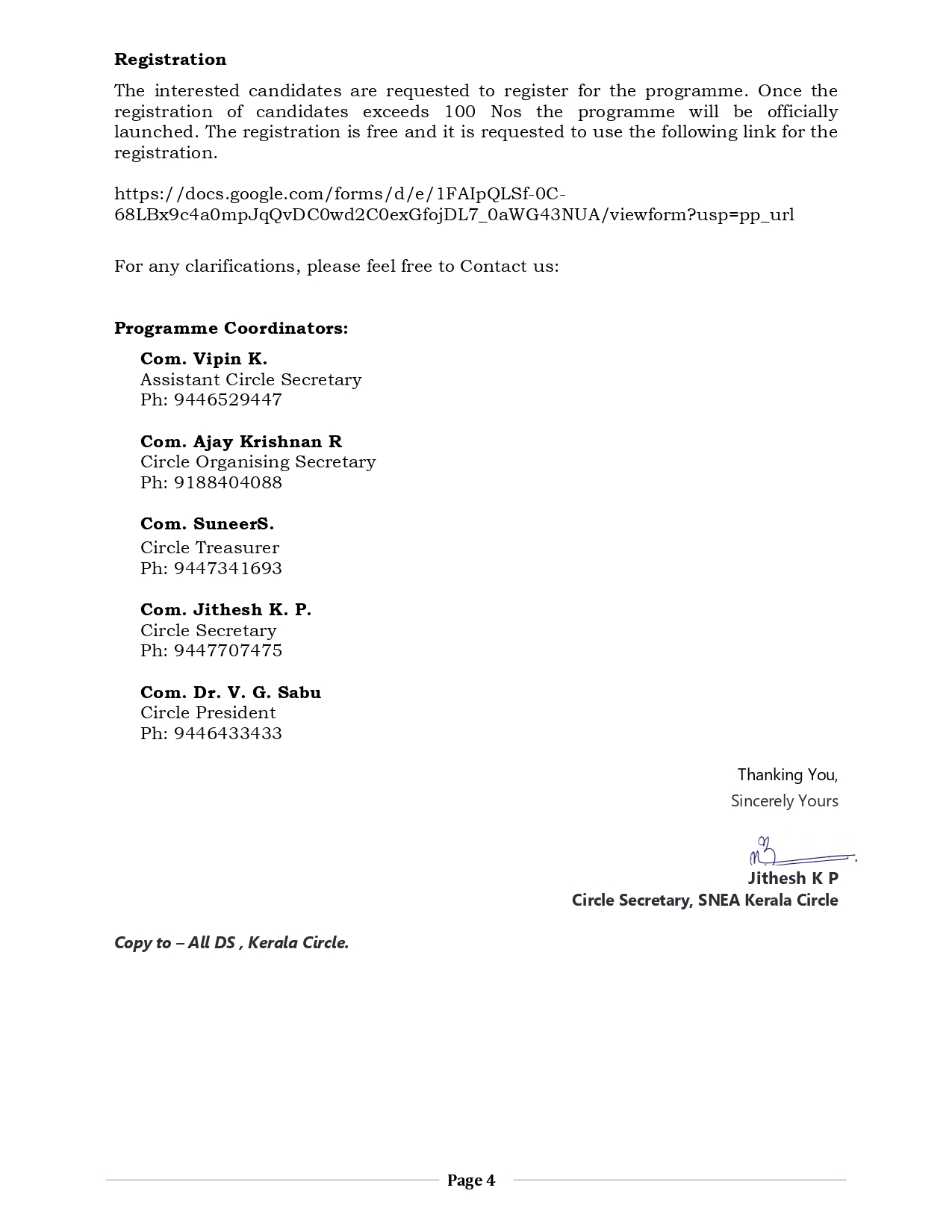 09/05/2022 : Imposition of CAF Penalty withheld
In a continuation of the strong opposition by our association on several occasions against the unilateral imposing of CAF penalty on our executives, SNEA KL once again strongly addressed the issue of imposing of CAF penalty on executives via the AUAB platform in front of respected CGMT Kerala.
AUAB represented by Circle President(SNEA) Com.Sabu, ACS (SNEA) Com.Suresh & members of BSNLEU, FNTO, AIGETOA & AIBSNLEA met respected CGMT today in his chamber. AUAB strongly opposed the unilateral imposition of CAF penalty on dedicated employees of Kerala circle.
Following are the decision taken during the meeting:

1. Imposing of CAF Penalty on employees to be put on hold with immediate effect.
2. Return of all CAF Penalty imposed on employees till date.
3. CGM to write letter to CMD BSNL to make provisions to pay the CAF Penalty from BSNL fund instead of imposing the penalty on employees .
4. For smoothening the process of CAF approval, CGMT instructed AUAB representatives to meet the respective BA Heads for creation of enough Usernames and exclusive approvers so that requirement of password sharing can be curtailed.
5. Regularization of penalized wrong DKYC CAF in consultation with ITPC and CGM requested to all employees to approve CAF after ensuring all guidelines and norms of DoT to avoid any penalty in future.
---
---
---
01/05/2022 :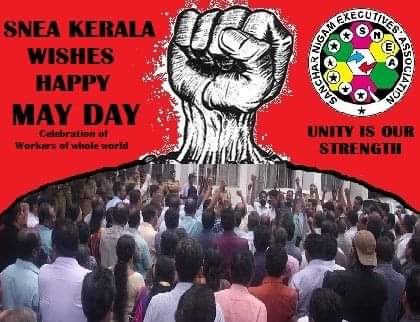 ---
---
---
28/04/2022 : CS Writes to CGMT KL on irregular transfers from TVM BA to CO.
---
---
---
27/04/2022 : Day long hunger fast at Circle office & LHD at all BAs in solidarity with indefinite hunger fast at New Delhi.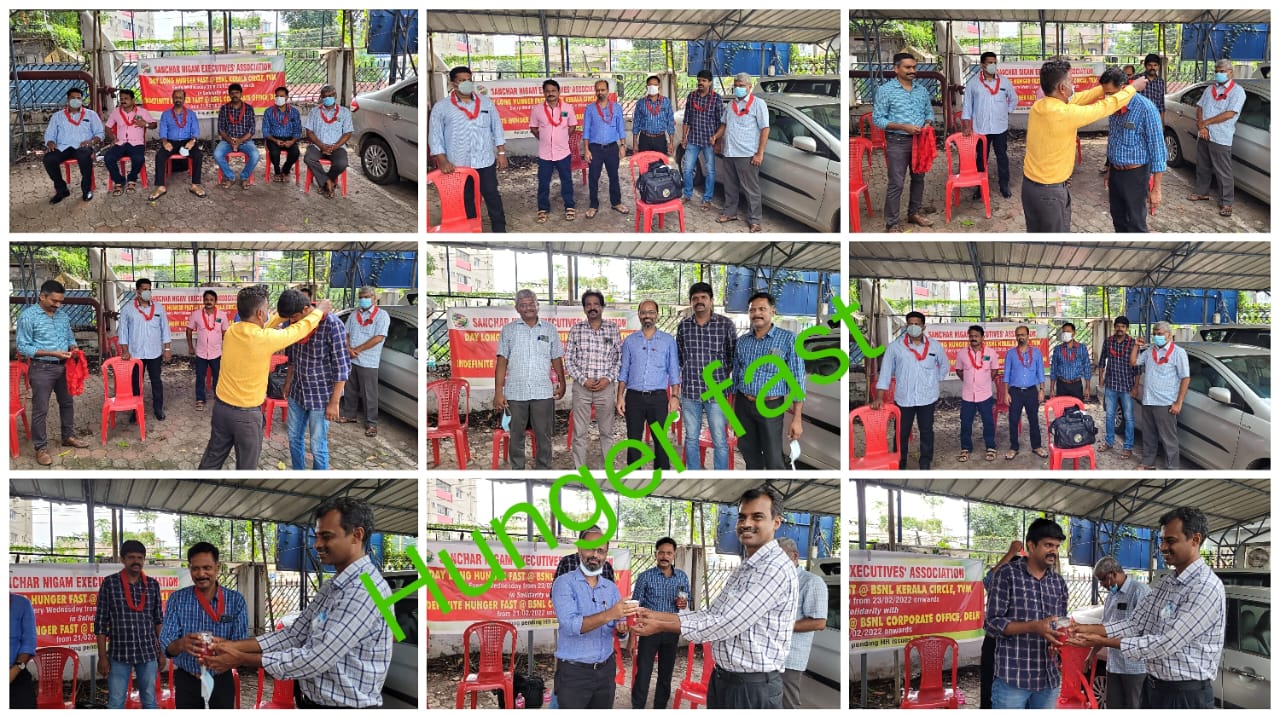 ---
---
---
20/04/2022 : Day long hunger fast at Circle office & LHD at all BAs in solidarity with indefinite hunger fast at New Delhi.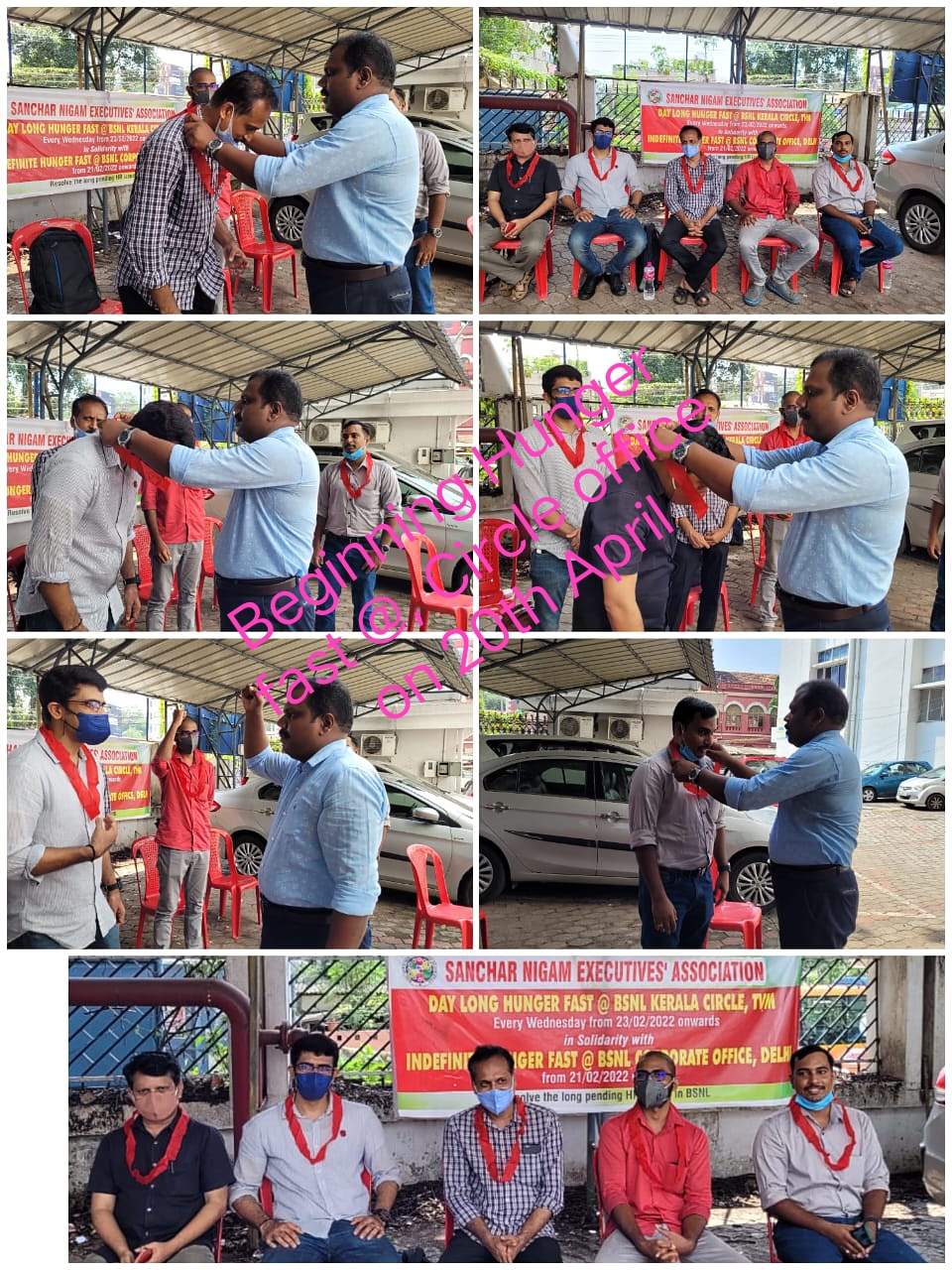 XXXI All India Conference
Congratulations to all the newly elected CHQ Office Bearers……
The XXXI All India Conference of SNEA held at Visakhapatnam on 12th and 13th April, 2022 unanimously elected the following comrades as the Office Bearers for the Next Term:
PRESIDENT : Com MANISH SAMADHIYA, JTO, MP Circle
GENERAL SECRETARY: Com M S ADASUL, AGM, MH Circle
TREASURER : Com TATA BABU KARNAM, SDE, KTK, Circle
VICE PRESIDENT : Com RAJESH P V MANCHAN, KRL Circle
ASST GENERAL SECRETARY : Com VIMAL R, SDE, KRL Circle
ASST GENERAL SECRETARY : Com PAVITHRA SINGH, SDE, UPE
ASST GENERAL SECRETARY : Com RAJDEEP, AGM, NTR, Delhi
ASST GENERAL SECRETARY : Com NIRANJAN SAHU, JAO, Odisha Circle
ASST GENERAL SECRETARY : Com BERLIN ISSAC, JTO, TN Circle
ASST GENERAL SECRETARY : Com SAMALA SRINIVAS, SDE, TL Circle
JOINT SECRETARY(South): Com M SATYA PRASAD, AGM, AP Circle
JOINT SECRETARY(North): Com JAGTAR SINGH, SDE, PB Circle
JOINT SECRETARY(Central): Com SUMIT SAXENA, SDE, MP Circle
JOINT SECRETARY(West): Com RAJENDRA KHANNA, JTO, RAJ Circle
JOINT SECRETARY(East): Com PINTU KUMAR, JTO, BR Circle
Snapshots from XXXI AIC
Circle Leaders with newly elected GS
AIC Inaguration by Vice Chancellor, Andhra University
Newly Elected CHQ Body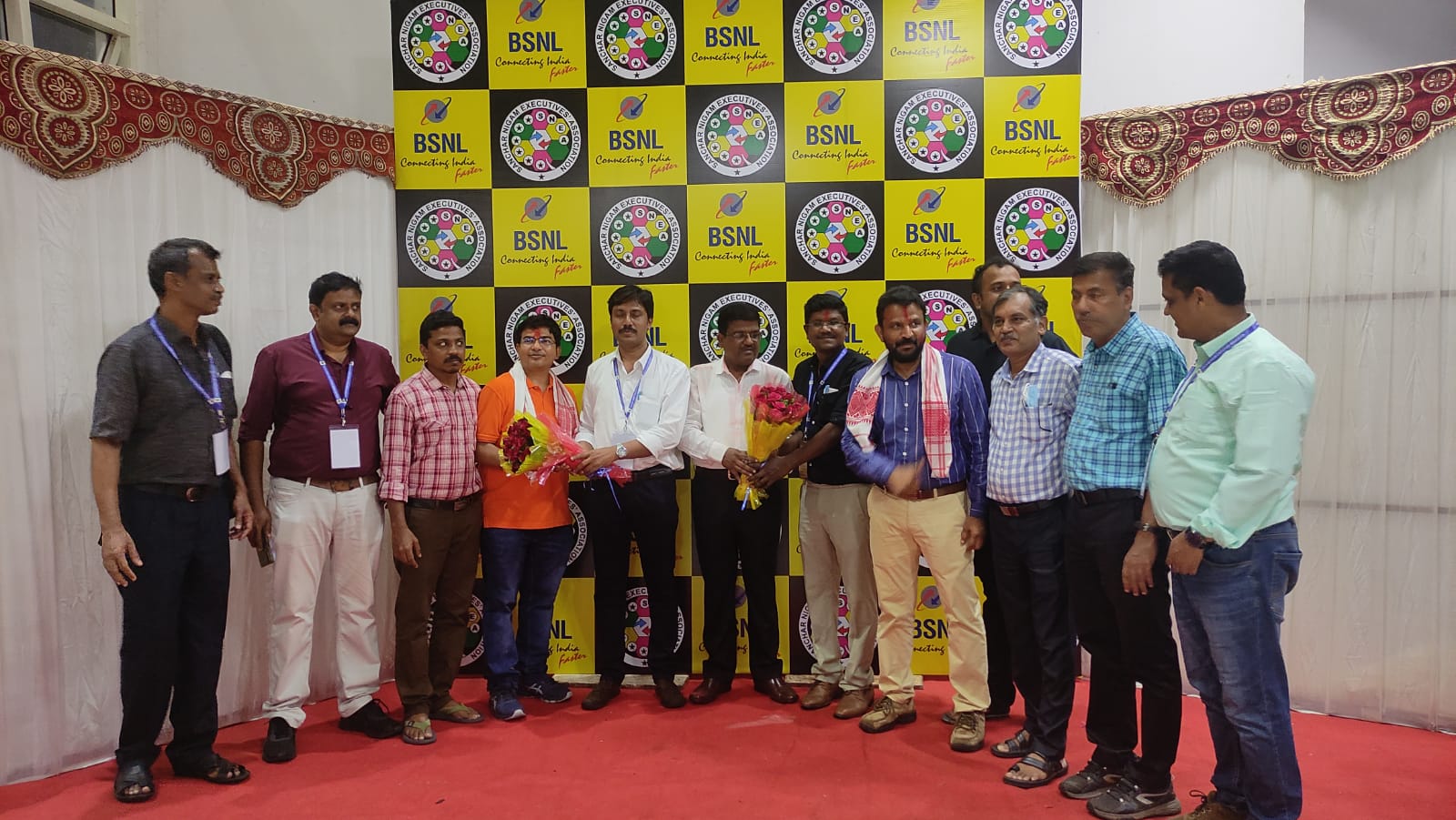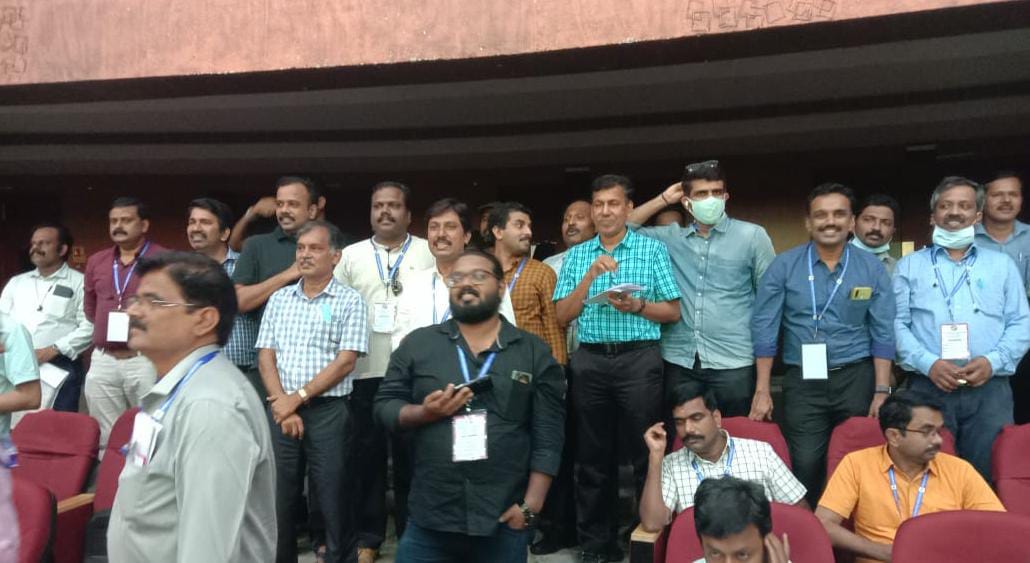 ---
---
---
13/04/2022 : Day long hunger fast at Circle office & LHD at all BAs in solidarity with indefinite hunger fast at New Delhi.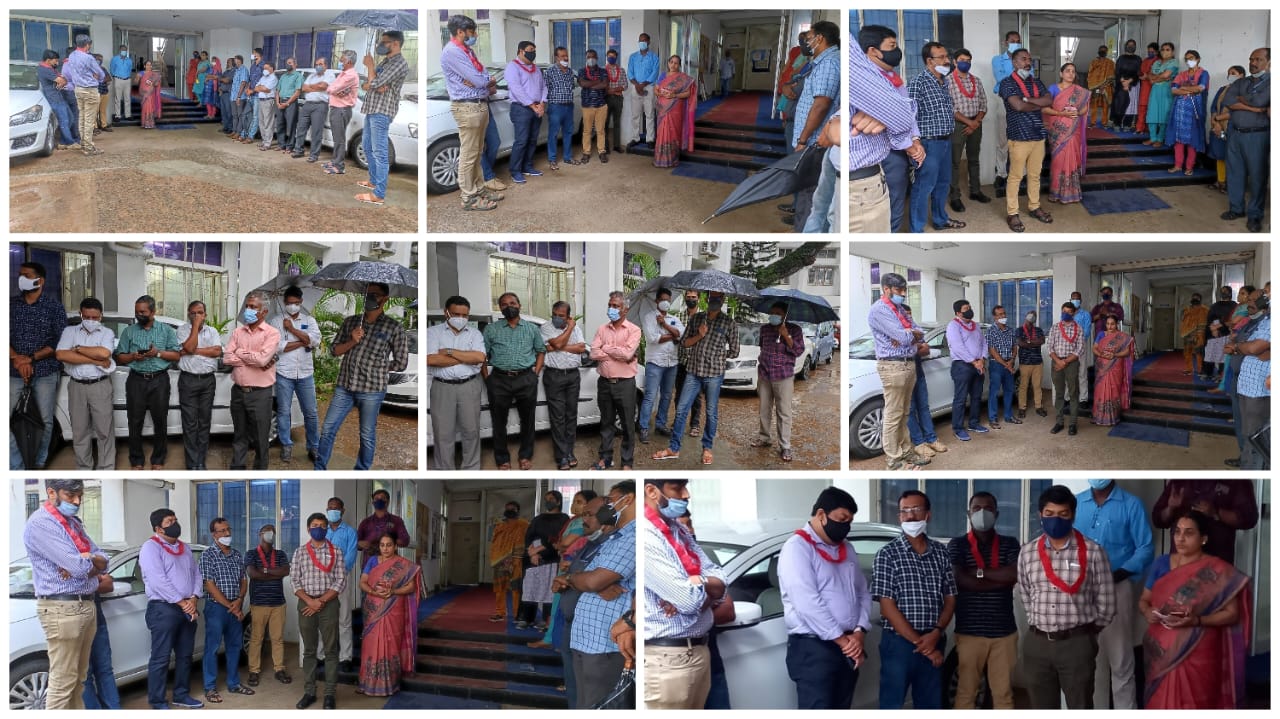 ---
---
08/04/2022 : CS SNEA Kerala addressed CGMT Kerala regarding the discrepancies in the recent Time bound orders issued. CGMT assured to review the same.
Letter & Reply from CGMT KL.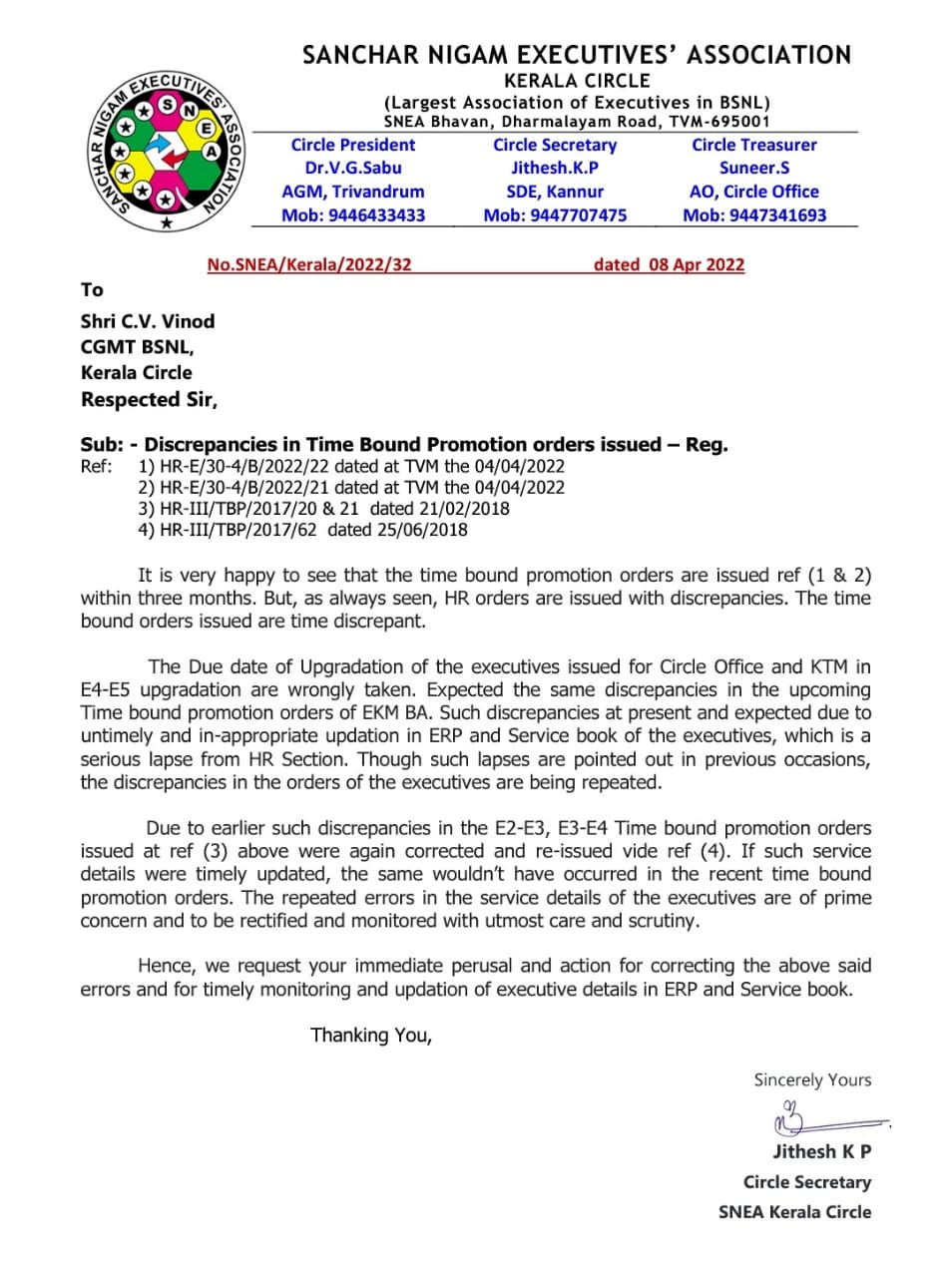 ---
---
06/04/2022 : Day long hunger fast at Circle office & LHD at all BAs in solidarity with indefinite hunger fast at New Delhi.
---
As per our demands addressed to CGM, today Circle has issued AGM-LA arrangement extensions to reverted executives and CGM has responded to consider the upkeeping of posts and addressing deficit executive strength to HQ.
---
---
05/04/2022 :
CS writes to CGM KL on LA arrangements & promotions to executives in view of large number of posts lying vacant as per restructuring and deficit executive strength in KL Circle.
ACS & CT met GM-HR & raised the points as per the letter and demanded immediate issue of LA arrangements.
04/04/2022 : Congrats to Com.S.Ramachandrakumar, (DGM-Vigilance,Circle Office)
Com.S.Ramacandrakumar, (DGM-Vigilance,Circle Office) was awarded the Doctor of Philosophy (PhD) in Management by Karpagam Academy of Higher Education for his thesis "A Study on Customer Retension Strategies Adopted by BSNL on Broadband Services with reference to Thiruvananthapuram District".
02/04/2022 : Congrats to Com.Manoj.M.V, (Junior Accounts Officer, Alappuzha BA )
Com.Manoj.M.V, (Junior Accounts Officer, Alappuzha BA ) was awarded the Doctor of Philosophy (PhD) in Commerce by University of Kerala for his thesis "A study on the Effectiveness of Technology Business Incubators (TBI) for the Promotion of Entrepreneurship in Kerala".
31/03/2022: Circle News: CGM KL writes to DIR-HR reg deficit executive strength against sanctioned restructuring posts after the Agenda meeting with SNEA KL
Dear comrades,
Kindly see the letter from CGMT to DIR HR putting forward the actual demanding posts and manpower against the deficit restructuring figures as per the efforts taken by SNEA Kerala through consistent meetings with HR and Agenda meeting with CGMT.
Now we understand how much difference is there between sanctioned strength and working strength of executives in Kerala circle. We need to bridge this big gap. This is why SNEA continuously argued for publishing the exact statistics of working employees. Once we know the issue, we can try to find out the solution. When administration came out with a Restructuring plan with a Minimum Essential working strength, SNEA strongly opposed it. We have also opposed the move of sending out executives from Kerala circle due to this extreme shortage of executives.
But we may keep one thing in mind that the other Association wanted our executives to be sent out from Kerala in the name of long stay. Now they are coming out with another move of pushing administration to continue with the restructuring plan already circulated prepared without considering any field realities. This move is only because of the decision taken in the meeting with SNEA to review the proposed restructuring plan by taking the points raised by SNEA into consideration.
Friends, all these moves are really going to hit our promotional chances adversely and further degrade the cluster maintenance. This will affect our revenue and career progression badly. When we are trying to safeguard our revenue and career through our protest, it is unfortunate that other Association with Majority Tag approaching management to implement that non scientific proposal. We hope that at least by now they may understand why SNEA strongly objected this policy.
It is clear that the struggles undertaken and continuing by SNEA is in the right direction.
So let's be united under SNEA more and raise our questions at proper time to safeguard our company and our posts,promotions & career.
---
Click here for News from Feb21 to May22
Click here for News from Sep20 to Feb21
Click here for News from Aug19 to Aug20
Click here for News from Oct to Sep 2019
Click here for News from April to Sep 2018
Click here for News from Jan to Mar 2018
Click here for News from Oct to Dec 2017
Click here for News from Jul to Sep 2017
Click here for News from April to June 2017
Click here for News from Jan to Mar 2017
Click here for News from Oct to Dec 2016
Click here for News from July to Sep 2016
click here for News from April to June 2016
click here for News from Jan to March 2016
click here for News from Nov to Dec 2015
click here for News from June to Oct 2015
---